We'll Take Care of Your Heating and Cooling Needs
Get Expert AC Installation Services in Henderson, NV
AC installation can be a complicated process. We're here to make sure it's as easy as possible.
Welcome to Mechanical Plus LLC! Our team of experts will come to your home to perform HVAC installation and teach you how to care for your unit so it keeps working at maximum performance for years to come.
We're dedicated to ensuring that our residential and light commercial clients in Henderson, NV, are satisfied with our services. If, at any point during the process, you feel something is unclear or not going right, please let us know immediately!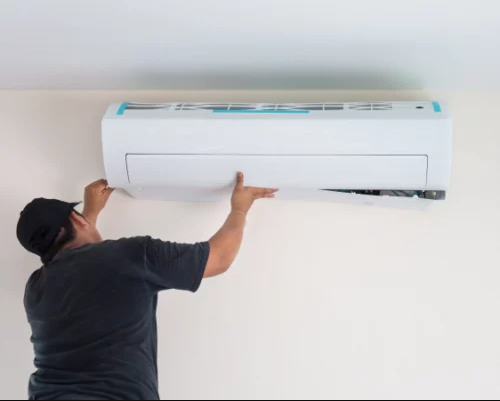 Comprehensive HVAC System Installations
With over 100 years of combined experience in the heating and cooling industry, we will ensure that your new HVAC system–a water heater or AC–is installed safely and efficiently. We'll help ensure your unit is set up correctly and operating smoothly. We'll also help you out with your gas piping should you need it.
We offer the following installation services:
Air Conditioning Installation
Ductless Mini Split Installation
Generator Installation
Heat Pump Installation
Heater and Furnace Installation
Tankless Water Heater Installation
We are proud to offer this service because we know how important it is for you to have peace of mind regarding something as important as installing a heating or cooling system on your property. We understand that this is something only some do themselves, and we want to help make it easy for you.

Call Us for More Info
At Mechanical Plus LLC, we know that AC installation is key to your comfort and well-being. That's why we put the highest priority on our installation process. We have experienced technicians trained in the latest techniques and state-of-the-art technology, ready to help you with your needs. We'll come to your home or business and do everything we can to install your HVAC unit. We also offer furnace repair and air conditioning repair; contact us today to have your units repaired!
Contact our team today to learn more about our HVAC installation service in Henderson, NV.
Get Dependable HVAC Installation Services for Your Property
Why Pick Mechanical Plus LLC?
From Seasonal Maintenance to Smart Thermostat, We've Got You Covered!