We Keep Your HVAC System Running Smoothly
Consult With an HVAC Zone Control Specialist in Henderson, NV
HVAC zone control is a great way to maximize the efficiency of your HVAC system. Here at Mechanical Plus LLC, we'll help you design the perfect solution for your home or business in Henderson, NV, from air conditioning inspection to our seasonal services.
With over 100 years of combined experience, our expert HVAC technicians are more than equipped to handle your HVAC system's seasonal maintenance needs. We will make sure that your HVAC system is working efficiently and consistently so that you can enjoy the benefits of a comfortable environment. We are more than qualified to meet your heating and cooling system needs and help you save money on energy costs, and extend the life of your unit.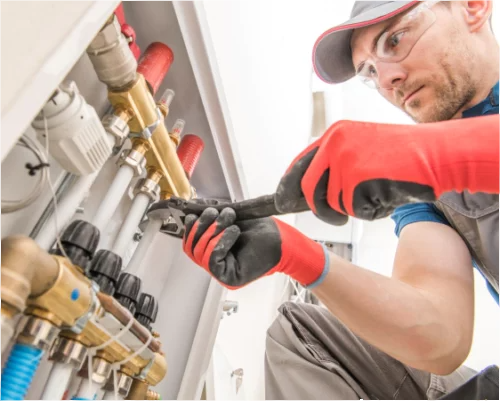 Comprehensive Seasonal Maintenance Services
Seasonal maintenance can help prevent problems like corrosion and clogged drains. It also ensures that your air conditioning will be ready when the weather heats up–our professionals can help you calibrate thermostats or go over your system with an air conditioner inspection!

We check the following for preventive maintenance:
Fall & Spring Services
Complete Change Outs
Condenser Change Out
Package Units
Mini Splits
14 Seer
16 Seer
18-20 Seer (Mini Splits Only)
Standard Repairs
Total Duct Replacement
Zone Cleaning
Modern Thermostat with WiFi Capability
Our Winter Service includes checking the following aspects:
Thermostat Calibration
Lubricate Moving Parts (as needed)
Inspect Inducer Draft Motor
Inspect Heat Exchanger
Inspect Burners
Gas Leaks
Igniter & Flame Sensor
U/V Light (if equipped)
Inspect Flue Pipe or Combustion Vent
Inspect Furnace Wiring
Inspect Heat Strip Operation (if equipped)
Return Air Temp
Supply Air Temp
Temperature Rise
Filter Condition
Inspect Insulation on Lineset and Air Duct Condition
Our Summer Service Includes:
Thermostat Calibration
Inspect Blower Compartment
Test Safety Float Switch (if equipped)
U/V Light (if equipped)
Inspect Condenser Coil
Clean Tighten
Electrical Connections
Inspect Contactor Contact Points
Refrigerant Charge
Inspect Capacitors
Running Amps & Volts
Suction Pressure
Discharge Pressure
Filter Condition
Inspect Insulation on Lineset and Air Duct Condition
We at Mechanical Plus LLC strive to work with you to create a customized seasonal maintenance service plan that meets your needs. We'll inspect your system in-depth and then provide recommendations for possible repair and maintenance services. Whether you need furnace repair or AC repair, we've got you covered!
Speak to a Specialist Today
With Mechanical Plus LLC's HVAC zone control service, you can make sure your space stays at the temperature you want it to, no matter what the Henderson, NV, weather throws at you. Our seasonal maintenance plans ensure that your system is always running at peak performance, so you never have to worry about whether it will be able to keep up with the demands of your space.
If you have questions about our HVAC zone control and seasonal maintenance service, please call us today!
Hire an HVAC Zone Control Specialist
Why Pick Mechanical Plus LLC?
From Seasonal Maintenance to Smart Thermostat, We've Got You Covered!